News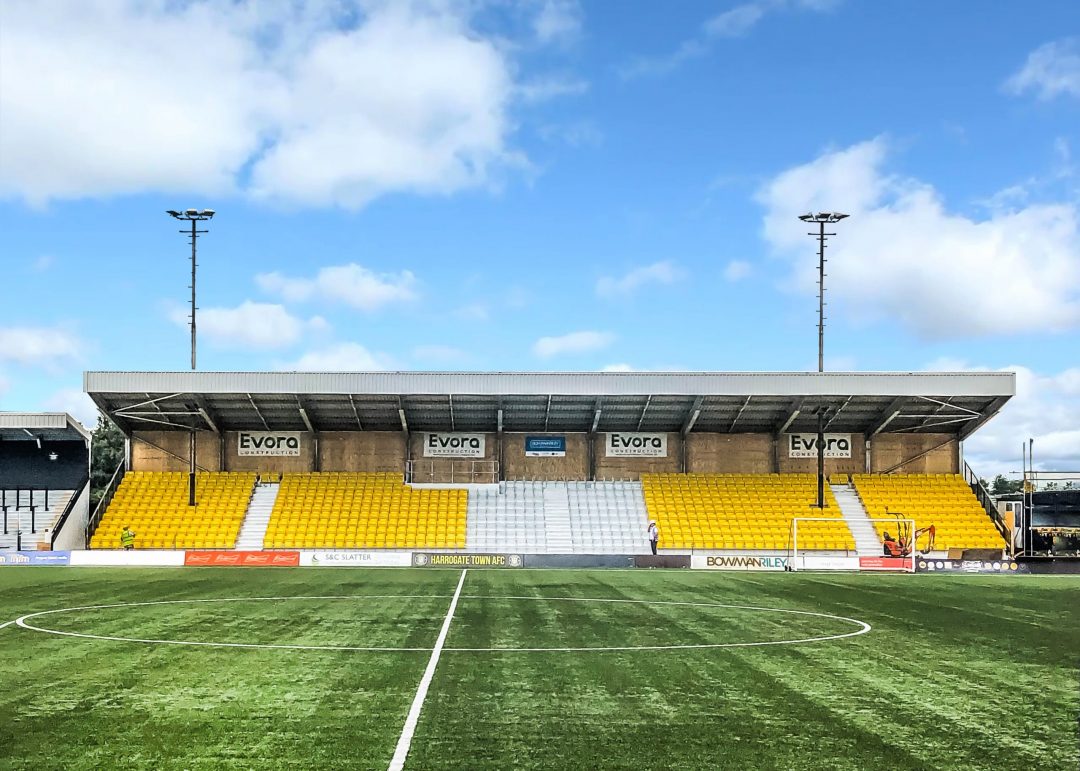 Supporting Harrogate Town Football Club's rise to the English Football League
Bowman Riley has been working with Harrogate Town Football Club for the past four years redeveloping the CNG Stadium in a strategic move to help secure promotion to the English Football League for the first time in its history.
During the lockdown, construction work began to redevelop the stadium's main stand.  With just the seating to install, the play-off matches were televised on BT Sports in July with the main camera filming from within the new stand.  The new stand increases capacity to over 5,000 spectators bringing the grounds up to Football League standard.
This new terrace provides more seating for families and supporters that would prefer to sit to watch the matches and provides a concourse with a food outlet, bar area and new toilet facilities.
It was a crucial investment for Harrogate Town Football Club for entry into League Two, now the team has realised its ambition of promotion from the National League.
The design team responsible for the developments at the stadium include Bowman Riley as the architect, project manager, contract administrator and principal designer with WSP Indigo as the planning consultant and Structsure as the engineer.  The team worked closely with local contractors, Evora Construction and Harrogate Steel.
This project forms part of a phased redevelopment of Harrogate Town's stadium to upgrade it's player and spectator facilities to aid the club's continued success and growth.
Darren Bush, Director, Bowman Riley said:
"We are proud to be supporting Harrogate Town FC's on its fantastic journey.  The club's promotion is wonderful news for the local community and the visitor economy."
Mark Reynolds, Director, Evora Construction added:
"We are really pleased to be working with Bowman Riley on this exciting development for Harrogate Town FC.  The new facilities saw the Club fit for promotion, we wish them all the best in their continued success."
Read more about Harrogate Town Football Club's achievements in these recent news articles by the BBC and the Guardian,