Projects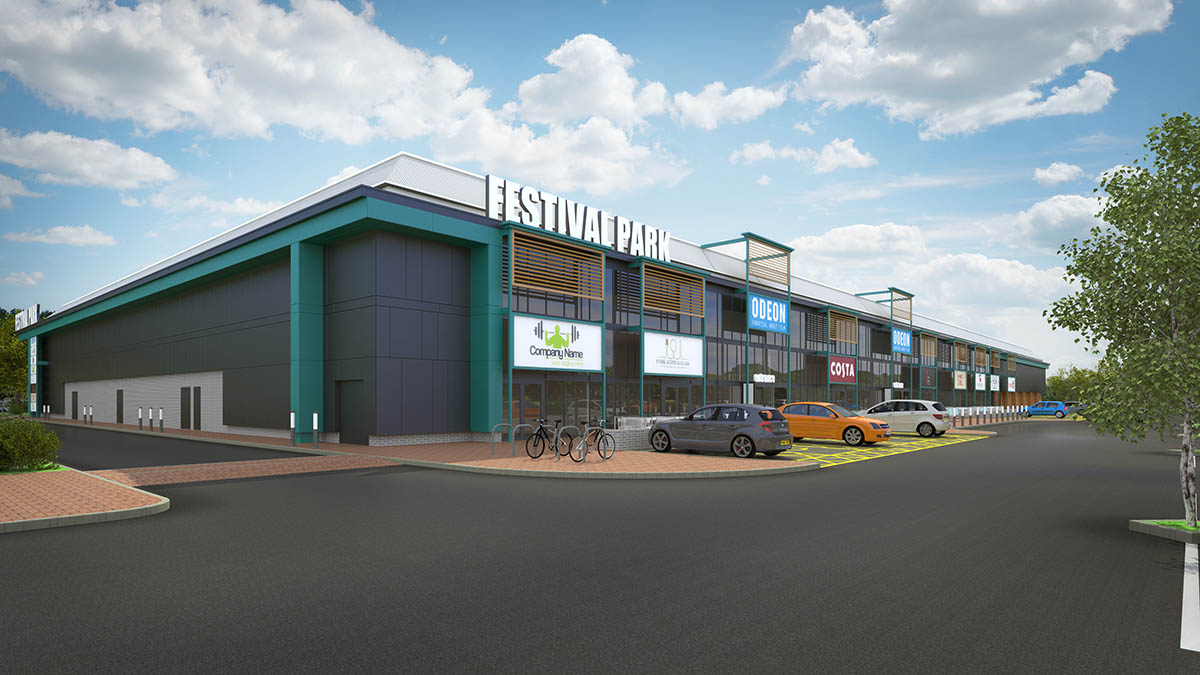 Festival Park leisure complex – West Midlands
Valad Property Group
Stoke on Trent, West Midlands
Bowman Riley is designing a £2.5m refurbishment of an existing Odeon cinema and leisure complex in Festival Park, an out of town retail park in Stoke on Trent.
Originally built in 1998, the existing cinema complex is dated and in need of investment and refurbishment to enable it to respond to changes in customer demand and to compete with a new city centre cinema.  In addition, much of the first floor is currently empty following the closure of the Quasar laser game.
A planning application has been recently submitted to transform the buildings exterior, which will be over-clad to give it a more contemporary appearance.
To occupy the vacant space within the building, the plan is to open three restaurants.  The proposal will ensure the Odeon cinema can operate viably in todays evolving leisure market.
Valad Property Group subsequently bought another leisure site in Blackpool to be given a similar facelift.
X
Trade and Public Mill Shop – Leeds
Abraham Moon and Sons Ltd
Guiseley, Leeds, West Yorkshire
Abraham Moon is a weaving manufacturer in Yorkshire, the traditional home of the English cloth mills. Following a successful project to design the refurbishment of a section of the mill building into a Design Studio, Office and Meeting Room, Bowman Riley Interiors was appointed design a Mill Shop.
Abraham Moon sell to the trade, however, they operate a successful pop-up shop each December to sell their country apparel, high-end furniture upholstery, off-cuts and end-of -line fabrics directly to the public. Abraham Moon wanted to create a permanent shop to enable them to trade to the public throughout the year.
An existing workers cottage was identified on the mill site for conversion and a detailed feasibility was undertaken to explore the design, layout and future expansion for the shop. Following a presentation of the design concept, the scheme was developed into a full construction drawing package for tender.
Our design involved removing the cottage's internal walls and the ceiling to create a flexible open plan space with exposed roof beams. The heritage elements were retained including wooden floors and existing stone walls sandblasted a large feature sign was to be hand painted onto the gable end of the new Mill Shop.
The retail space was designed with a dedicated shop frontage and car parking for adjacent residents, staff and customers for the new shop.  Visit their website here
X
Cawingredients Soft Drinks Factory – North Yorkshire
Cawingredients Ltd
Leeming Bar, North Yorkshire
Bowman Riley Architects has supported manufacturer Cawingredients over the past few years to create one of the UK's most technologically advanced soft drinks factories.
Initially we provided the overall master planning of the North Yorkshire site and designed a flagship factory to produce carbonated soft drinks supplying to major UK customers. At the outset, we supported Cawingredients in identifying a suitable site (minimum 20 acres) for their new factory with excellent transport links to ensure that the company would not outgrow their premises once their operations had expanded. We assessed the viability of a number of potential sites before a plot alongside the A1 was identified.
We designed a 10,422m² purpose-built factory, which houses production and bottling facilities, warehousing, water treatment plant, laboratories with ancillary offices, wagon yard and car parking. This building accommodated all the Cawingredients functions together with the longer term plan of creating a series of new buildings on site to decant various functions into as the business grew.
Subsequently we designed a second phase to provide an additional 1,145m² industrial space and there are now further phases including the creation of a vast 40m high warehouse, new stores, new car parking and water treatment plant.
Over the last few years we have assisted Cawingredients with strategic land purchases to accommodate further expansion. This work has created a new site entrance for all vehicular traffic, a new car park, a new bespoke trade effluent plant and a new phased employment site.
X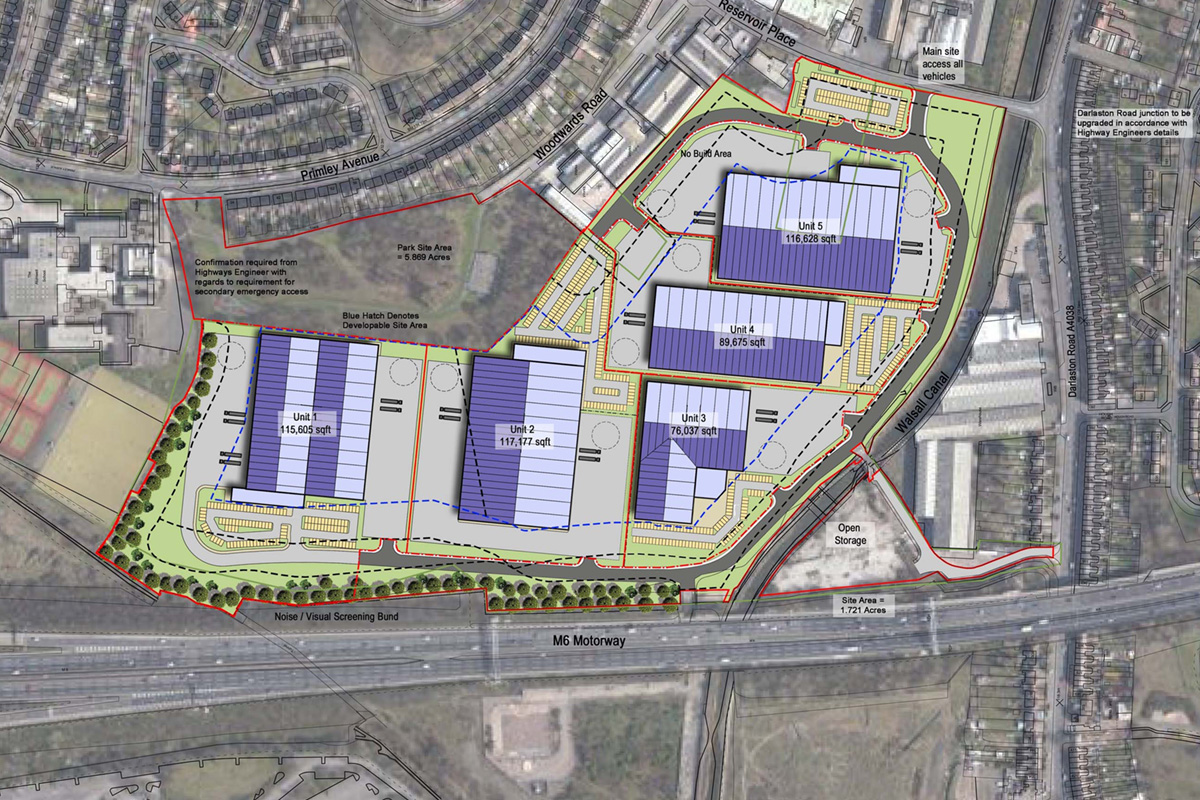 Homes and Communities Agency and Department for Communities Master Planning
Bowman Riley Architects was commissioned to provide master planning and feasibility services on behalf of the Homes and Communities Agency, Department for Communities and Local Government and Walsall Council to examine the development potential of sites across Walsall and Wolverhampton as part of the Government's Enterprise Zone Initiative.
We produced detailed site plans for seven of the areas identified by the Council; all of which had difficult and limiting factors such as services easements, contamination or unstable ground. Phoenix 10, the largest of the sites, is reported to be the most contaminated site in Europe and without the Enterprise Zone, funding would never be commercially viable for industrial redevelopment.
Working alongside DTZ, the sites were evaluated and a range of industrial units from large scale distribution warehouses to bespoke innovate hybrid commercial / office units were proposed. The intention is to maximise developable area within the Enterprise Zone boundaries to take advantage of the maximum funding contribution.
We were able to provide quick turn-around response times for drawing production and amendments to facilitate the delivery of clear and concise strategies, which benefitted the wider team in their respective roles.
X
Design Office Refurbishment – Leeds
Abraham Moon & Sons Ltd
Guiseley, Leeds, West Yorkshire
Abraham Moon & Sons is a weaving manufacturer located in Yorkshire, the traditional home of the English cloth mills. The manufacturer had outgrown their premises and needed to expand to retain their location and modernise working methods. Bowman Riley was commissioned to provide architecture, interior design, contract administration and CDMC to extend the factory by 45,000 ft2 bringing all machinery into one location in an open plan space.
Considering the site's adjacency to a railway line, we communicated with Network Rail to ensure the factory and railway line were kept safe throughout construction.
Following the successful completion of the extension, we designed the refurbishment of a redundant first floor space within the mill into a dynamic design office and showroom.
Over 70% of the cloth produced by the factory is exported to America and Asia with clients visiting the factory from overseas to source traditional tweeds and cloths. The existing design studio was unable to handle large client meetings with no facility to display the fabrics.
The brief involved forming a new entrance with vertical circulation providing direct access to staff and visitors. A state-of-the-art heating and cooling system was required to convert the factory space into a comfortable office and showroom. Historic features were retained and the whole space was sandblasted exposing the original brickwork and stone details.
Located within a conservation area, the mill was fully operational during the construction. The design pays respect to the local vernacular and the site planning and logistics were carefully considered to deliver a traditional appearance with modern facilities.
X
New Livestock Haddocks Farm – York
Sir Ken Morrison/Myton Hall Farms
Myton on Swale, North Yorkshire
Sir Ken Morrison purchased a series of derelict farm buildings with 1000 acres of land to create a new livestock farm (Haddocks Farm) based on the concept of the model farm, an 18th – 19th century experimental farm, which demonstrated improvements in agricultural techniques, efficiency and building layout.
Bowman Riley Architects prepared a development strategy and designed the state of art farming facility Working in close collaboration with our client to realise his ambitions of creating a best practice farm that can operate to maximum efficiency whilst adhering to the highest environmental and RSPCA welfare standards.
Haddocks has become the third largest livestock farm in the country.
Typically farms grow organically on an ad-hoc basis, however, our client wanted to create an exemplar facility from scratch designed to meet best practice farming methods. We carefully master planned a series of 186,000ft² agricultural buildings. The buildings were delivered in four phases including cattle buildings, grain store, silage store, machinery shed, lambing shed, largest straw barn in Britain, ancillary buildings and 132,000ft² of service yard.
The careful layout of the facilities combined with the most up to date technology has resulted in a controlled environment that allows the livestock to thrive, minimises the risk of infections and maximises the efficiency of the farm.
X
DX New Distribution Hub – South Staffordshire
DX Network Services
Essington, South Staffordshire
Bowman Riley was commissioned by DX Network Services to provide architectural services on Project Verne, a new distribution hub for their operations in South Staffordshire.
Project Verne is located on a 43 acre site of a former brickworks up until 1978 before it was subject to open cast operations.
The development comprises a new 36,720sqm distribution hub incorporating a load hall with loading dock facilities, ancillary office space to accommodate logistics operational support facilities and head office functions.
In addition, there will be an external open sided covered loading area incorporating an onsite recycle centre for processing packaging waste and workshop facilities to provide maintenance to the vehicle fleet and associated refuelling facilities.
Externally the development includes 303 car parking spaces, new site access for HGV vehicles and service yard with associated gatehouse to control entry.
The project also provides enhanced landscaping to the site including formal landscaped frontage and car park areas, earth mounding, woodland screening to the areas surrounding the service yard and the introduction of detention / retention wetlands connected via swale ditches.
X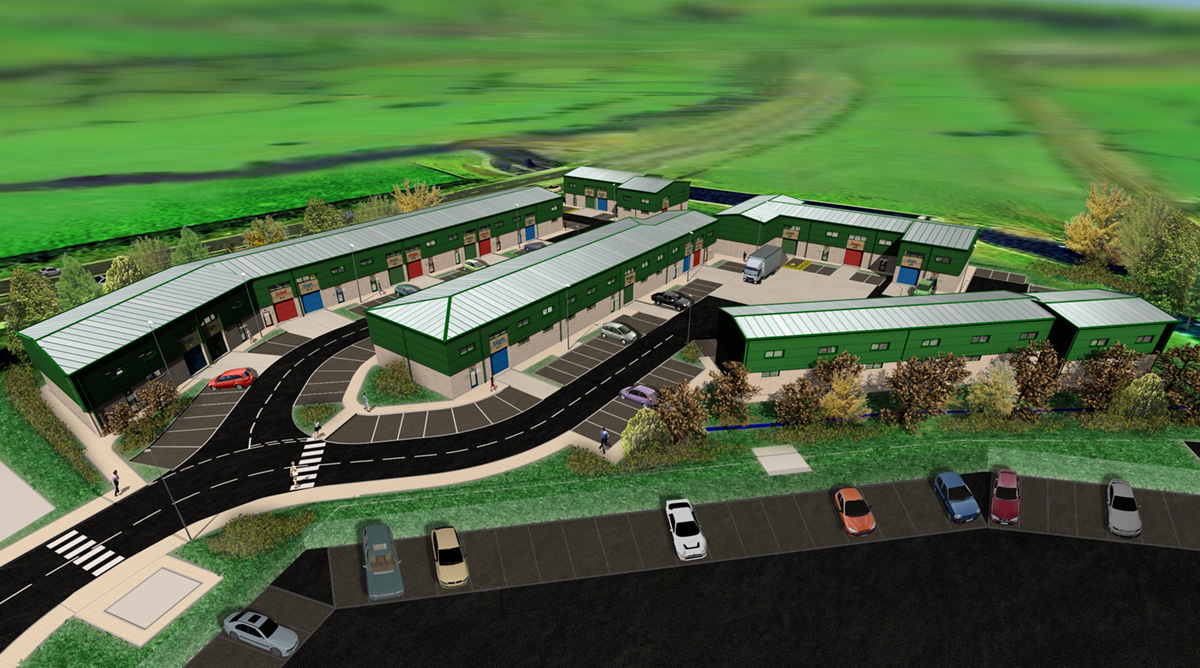 New Crossings Business Park – North Yorkshire
Skipton Properties Ltd
Crosshills, Skipton, North Yorkshire
Bowman Riley Architects was instrumental in the development of the Crossings Business Park, a 20 acre mixed use scheme in Crosshills, adjacent to the A629, a dual carriageway linking Keighley to Skipton.
The business park accommodates a range of 150,000ft² industrial and commercial units ranging in size from 5,000 to 24,600ft².
Working on the original phase of the Crossings, we used the outline plan of the business park and the infrastructure already in place to liaise with prospective tenants to determine their needs and ultimately design fit-for-purpose buildings.
We designed the final phase of this industrial park, Riparian Court, 29 two storey units ranging from 1600-3000 ft².
The Crossings is now fully occupied having attracted car dealerships, office occupiers, trade counter and general warehouse and industrial occupiers.
X
Dalton Lane Industrial Units – West Yorkshire
Aire Valley Developments (UK) Ltd
Keighley, West Yorkshire
Bowman Riley Architects designed the redevelopment of an unused brownfield site at Dalton Lane to provide new industrial units of various sizes, ideal for local businesses or as starter units. The design was created in harmony with the existing adjacent industrial buildings and construction was undertaken in a traditional manner for this type of use.
The scheme also provides vehicular, cycle and disabled parking, and includes sympathetic landscaping with boundary fencing.
Car parking to service the scheme is located both on the lower levels of the second mill building and in a purpose built parking structure located on the vacant industrial site to the east end of the site.
In order to accommodate the new business and residential uses on the upper floors, new circulation cores were constructed. These were treated as distinct elements in terms of both materials and structure, so as not to detract from the architectural integrity of the original building.
X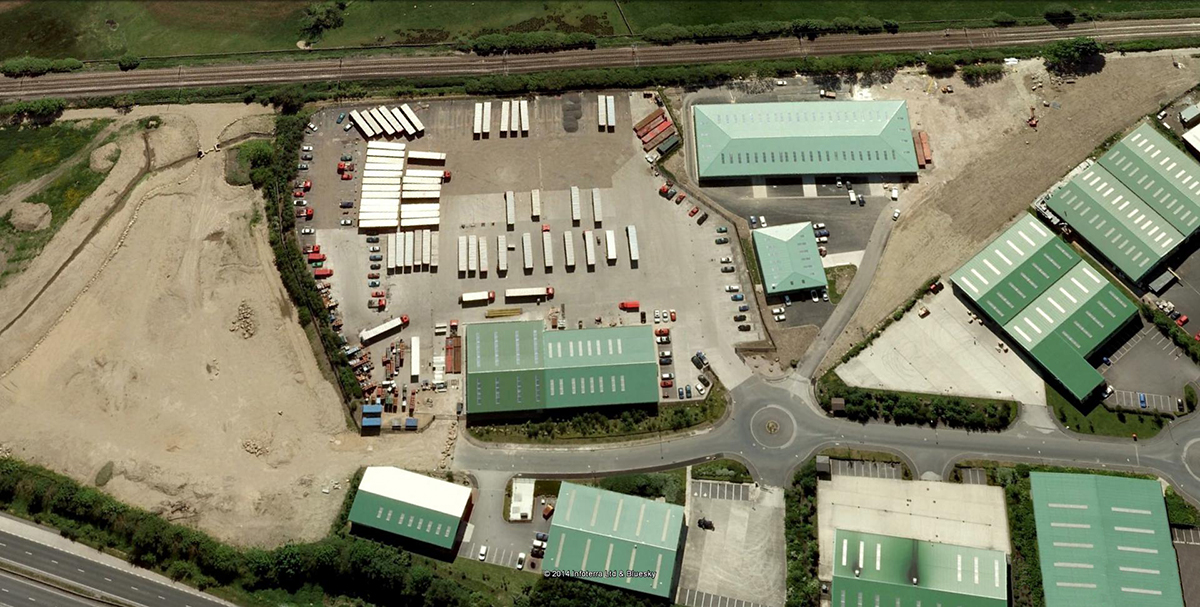 JODA Freight Distribution Hub – North Yorkshire
JODA Freight
Crosshills, Skipton, North Yorkshire
Bowman Riley Architects designed a new distribution hub for Joda Freight, a well-established general haulage business that started in 1986 to service the light and heavy road haulage needs of a customer base throughout the UK and into Europe.
Based in the north of England, Joda Freight's existing scattered and disparate premises needed consolidating on a single site in order to meet growing customer demand and improve the efficiency of their operations. Joda took the opportunity to move their business to a purpose-built location a quarter of a mile away from their original depot.
We worked with the site developers to determine what Joda Freight needed from the site and in close liaison with our client to understand how their business works and their current and future requirements. From this knowledge base, we were able to produce an effective site layout.
Now five years on, the site is operating successfully enabling Joda Freight to expand their fleet to over 50 vehicles.
X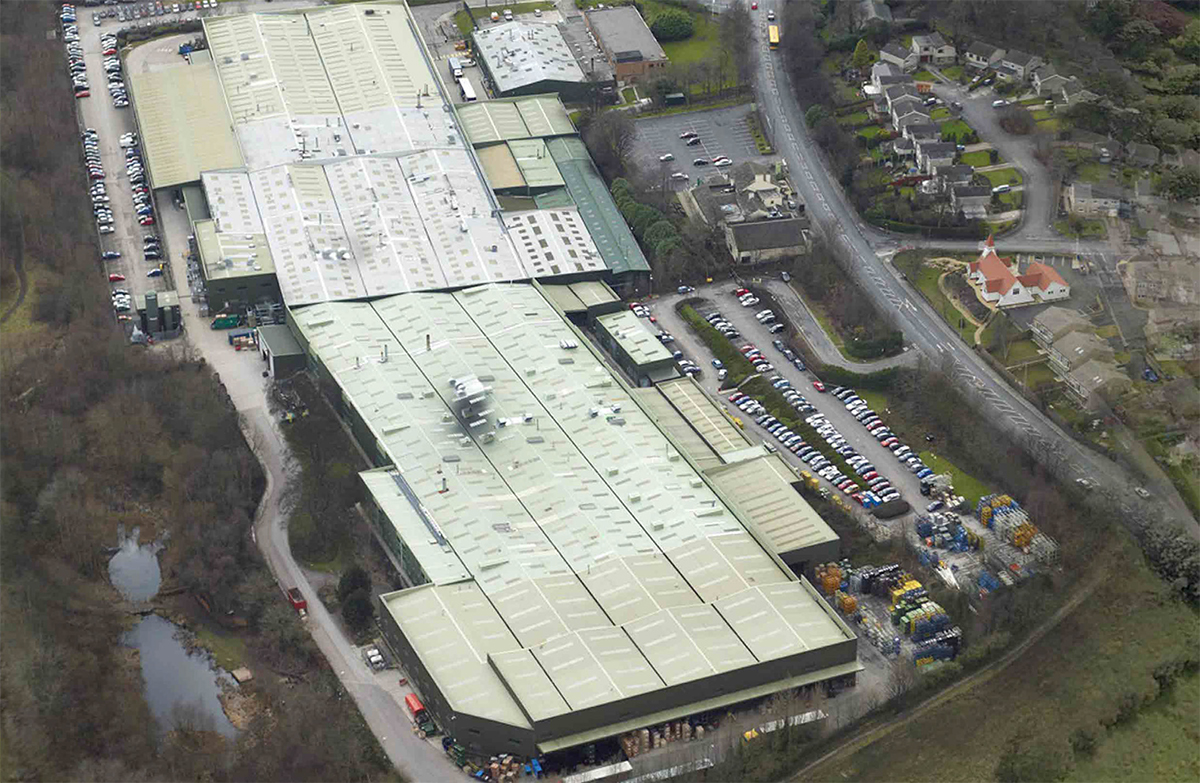 Denso Marston Manufacturing Facility – Yorkshire
Denso Marston
Site Location: Shipley, Bradford
Bowman Riley Architects designed the extensions and alterations to the Denso Marston manufacturing facility that produces thermal cooling systems for construction, industrial and agricultural applications.
Denso Marston has been based at their 65 hectare site in Shipley since 1904 and needed to extend their existing 32,600m² factory by 6999m² to increase the production area enabling them to expand their business and in doing so secure employment for 718 people and create new opportunities.
A significant challenge was to create additional space on a difficult sloping site and to manage the diversion of a local trunk sewer crossing the site. Existing buildings and roofed areas were removed to make way for the new production areas. The project was planned to take place in four main phases, with an initial enabling phase with all works taking place whilst the manufacturing facility was fully operational at all times.
The new extensions are of a simple industrial appearance to match the existing buildings. The roofs have a proportion of translucent roof lights to provide good natural daylighting within the factory areas.
An ecological survey was carried out with careful consideration of the Denso Marston nature reserve and in consultation with the Friends of the Denso Marston Nature Reserve. Additional planting was carried out to enhance the nature reserve.
X