Projects
Asda Petrol Filling Station – South Wales
Client: Asda
Location: Blackwood, South Wales
As part of Bowman Riley Architects ongoing framework with Asda, we completed a new petrol filling station in the car park of Asda's superstore in Blackwood.
Bowman Riley undertook the design and principal designer roles on the project working alongside main contractor Premier Group, Dudleys, Adept structural engineers and Project Managers, GPS.
The new petrol filling station houses four pay-at-pump dispensers, two 75,000 litre tanks, canopy, control room, driver controlled delivery unit and totem signage.
The scheme involved the reconfiguration of the car park to accommodate the petrol filling station. The project is situated on an elevated former landfill site with ground gas contamination and challenging structural requirements.
To find your local Asda petrol station click here
X
Dales Market Corner and Petrol Filling Station – Harrogate
Private Client
Pateley Bridge, North Yorkshire, Yorkshire Dales
The Dales Market Corner is a uniquely designed, independent convenience store with a petrol filling station in the heart of the scenic market town of Pateley Bridge in Nidderdale, an area of outstanding beauty. On a brownfield site (formerly a car dealership), a Costcutter kiosk was enlarged, rebranded and reopened as a wholly independent convenience store. This followed the successful first phase of the development; the refurbishment of the petrol filling station and forecourt. Phase 1 involved the refurbishment of the petrol filling station including a new canopy, forecourt alterations and replacement fuel tanks, pumps and lines in conjunction with a specialist petrol filling station contractor. Phase 2 was the partial demolition and extension to the convenience store building to create a circa 300m² footprint (an increase of 200%). The works were planned to be phased to enable the store to continue to trade with minimal disruption.
The store is a uniquely five-sided extension seamlessly integrate into the local vernacular with its use of traditional building materials applied in a contemporary form. From afar, the angular and split level roof responds to its unique and varied neighbours both in form and height whilst addressing the client's need for a single storey building. Taking its form from the unusual sized plot, the double-height volume enhances the sense of place and space whilst seamlessly integrating into the original forecourt building. This enabled the store to continue trading throughout and now provides for a logical and considered building. Daylight floods what would otherwise be a typically artificially lit space, thanks to a quirky interpretation of the local dry stone walls and the relationship to contemporary glazing arrangements.
This bespoke development responds specifically to the needs of the local community and makes a positive contribution to the public realm and is a valuable asset to the community, who had to travel as far as Harrogate to buy groceries.
X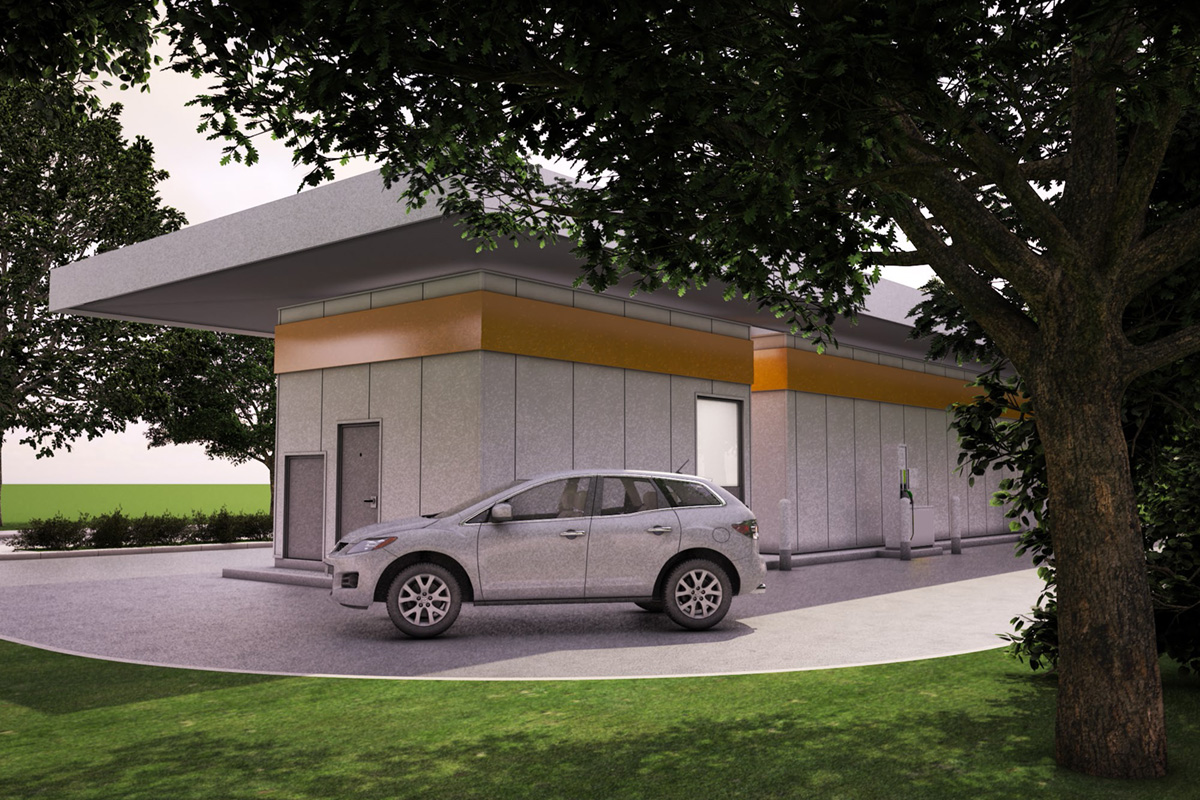 Artelia Modular Petrol Filling Stations
Catfoss
Site Location: UK Wide
Bowman Riley Architects works on a joint venture basis with Catfoss to design and deliver modular petrol filling stations on behalf of Artelia for all five major petroleum companies. Our modular solutions fulfil a need to provide new petrol filling stations faster and more efficiently.
We are currently involved in the design of two modular models; a large-scale, more traditional petrol filling station and a temporary station with above ground tanks for deployment to a range of sites for several petroleum companies.
Using the latest technology, the modular projects we deliver are predominantly built off-site in controlled environments. This speeds up the construction process as modules can be created simultaneously in a factory at the same time that site work is occurring. There are also benefits in terms of embedding sustainability and reducing carbon, as it produces less material, less site disturbance and offers greater flexibility and reuse.
X
Esso Petroleum – Across the UK
Esso
Site Location: Various
Bowman Riley Architects' unparalleled experience in petroleum projects can be traced back to the 1970s when the practice was first appointed by Esso Petroleum to undertake projects relating to their retail forecourt network across the UK and Ireland.
In the 1990s, we took responsibility for managing the archive of information relating to Esso's national estate portfolio. This resulted in our appointment by Esso Europe (Exxon Mobile) to develop European standard drawings to form the basis for all retail forecourt developments in Europe. We played a pivotal role in the development and coordination of these standards.
Today we continue to work with Esso to maintain their standards library to reflect the latest European trends and legislation. This involvement has kept the practice at the cutting edge of forecourt developments. We have also been instrumental in managing the national programme of forecourt upgrades to ensure access compliance on over 600 sites.
Our current activity for Esso reflects their current strategy for consolidation and technical upgrade of their estate resulting in the completion of a significant number of tank and line replacement projects as part of an on-going programme. We are also involved in minor works projects on 40 sites to update the site image to the latest low energy standards.
We have an on-going brief to prepare and update the Dangerous Substances and Explosive Atmosphere Regulations drawings for Esso on a countrywide basis.
X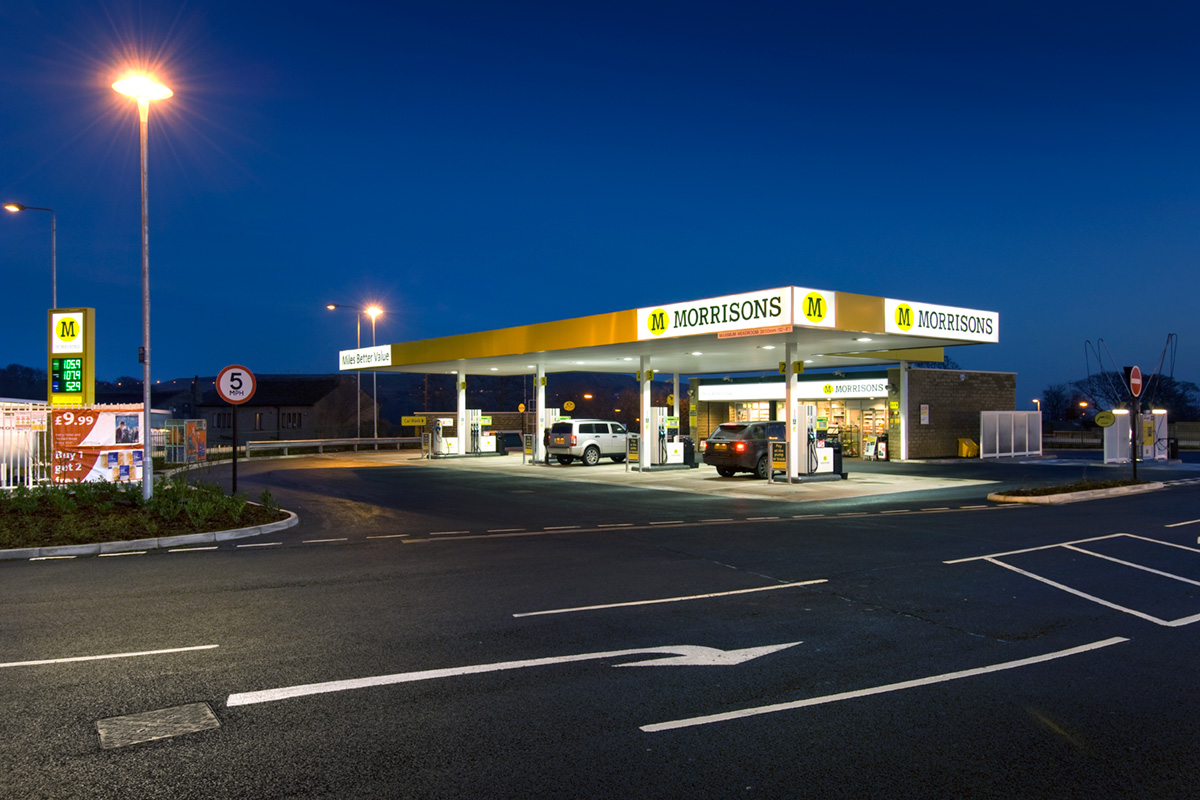 Wm Morrison Supermarket Petrol Filling Stations
Wm Morrison Supermarket
Site Location: Nationwide
Bowman Riley has been working for Wm Morrison Supermarkets for 25 years and it is testament to our ability to adapt, innovate and strive to break new grounds in terms of project delivery efficiency, cost savings, sustainability, that we are retained as framework architects.
We have successfully designed and delivered numerous supermarket developments including petrol filling stations alongside new and existing stores across the UK.
The new supermarket we designed in Illingworth, Halifax achieved BREEAM Excellent and featured the UK's first entirely LED lit petrol filling station.
The supermarket and petrol filling station we delivered at Minehead in Somerset was Wm Morrison' first ever new build design and build project driven with a focus on value engineering and speed of construction whilst maintaining a high level of quality.
X