Projects
Shell Electric Vehicle Charge Hub – Fulham, London
Shell Fulham, London
Bowman Riley was invited to present designs and assist in the delivery of Shell's first fully electric vehicle charging hub in Fulham, London. This project follows our competition-winning design of Shell's Flagship forecourt in the London Borough of Barnet, which introduced electric recharging.
The Fulham charging hub is the first time that Shell has converted an entirely traditional fuels site to an entirely electric site, illustrating their commitment to transforming the UK's energy infrastructure to a cleaner alternative.
Placing customer experience at the forefront of the design, we re-imagined how an energy forecourt may operate. We enhanced the customer offer with a comfortable area to work whilst their cars charge and refreshments from Waitrose and Costa Coffee.
The very latest charging technology will be installed on this site, providing rapid charging units capable of charging cars from empty to full in just 15 minutes. An extensive amount of research and development was also put into ensuring all the electrical items run quietly even on hot days, imperative for the local community.
Another Shell UK first, the design features two prefabricated timber glulam canopies sourced from sustainable forests to create the structure for a solar array above. These BI-PV solar panels allow natural light to pass through the canopy, protect customers from inclement weather and generate renewable energy. The scheme also incorporates a fully sustainable drainage strategy through the use of permeable paving and underground attenuation tanks.
After many years unchanged we were asked to redesign the Shell monolith sign. A brand-new digital monolith sign was developed for this site on behalf of Shell Global and will provide a live feed of information for electric vehicle drivers approaching the forecourt.
This project was a finalist at last week's Constructing Excellence SECBE Awards 2022 in the category of Integration and Collaborative Working.
See our other projects in the energy sector.
X
Flagship Shell Forecourt – Barnet, London
Shell
Barnet, London
Won via design competition, Bowman Riley has designed an iconic vehicle refuelling and electric recharging forecourt as a flagship project for Shell in the London Borough of Barnet.
Our brief is to deliver a cutting-edge design on the Barnet site where the focus is on customer experience and choice.
The demolition of an existing traditional fuel filling station will make way for the new forecourt to showcase the most up to date fuel formats providing both traditional fuels and fast charge electricity. The intention is for the forecourt to provide 50% traditional and 50% electric refuelling.
The convenience store on-site has been designed to offer an enhanced customer experience providing the largest range of retail products on a Shell Service Station with a café, in conjunction with a new drive-thru concept.
Bringing our 40 years' experience of forecourt design to Shell, we are providing full design services from conception to completion to visible demonstrate Shell's credentials and commitment to the energy transition.
With sustainability a key driver, the project incorporates the lowest carbon footprint of any site in the network featuring the latest low CO2 technologies and focusing on waste reduction and recycling. Embracing innovation and the use of renewables, the intention is to achieve a BREEAM Outstanding rating.
X
Asda Petrol Filling Station – Blackwood, South Wales
Asda
Blackwood, South Wales
As part of Bowman Riley's ongoing framework with Asda, we completed a new petrol filling station in the car park of Asda's superstore in Blackwood.
Bowman Riley undertook the design and principal designer roles on the project working alongside main contractor Premier Group, Dudleys, Adept structural engineers and Project Managers, GPS.
The new petrol filling station houses four pay-at-pump dispensers, two 75,000 litre tanks, canopy, control room, driver controlled delivery unit and totem signage.
The scheme involved the reconfiguration of the car park to accommodate the petrol filling station. The project is situated on an elevated former landfill site with ground gas contamination and challenging structural requirements.
To find your local Asda petrol station click here
X
New Asda Supermarket – Tain Scotland
Tain, Scottish Highlands
Bowman Riley was appointed by Longcross Construction to provide architectural services for a new build Asda supermarket Tain, Scotland.
The development comprises a café, petrol filling station and car park including charge points for electric vehicles and bicycle facilities.
Delivered on a design and build basis, Longcross selected Bowman Riley as their preferred architect to take the project through to completion using the BIM software Revit.
The 34,000 ft² supermarket is partially timber clad and surrounded by existing boundary stone walls that had to be retained.
The supermarket is the first major food retail offering in the town of Tain and was opened in autumn 2012. The development has created around 90 jobs for local people representing a major long-term boost to the local economy.
X
Dales Market Corner and Petrol Filling Station – Harrogate
Private Client
Pateley Bridge, North Yorkshire
The Dales Market Corner is a uniquely designed, independent convenience store with a petrol filling station in the heart of the scenic market town of Pateley Bridge in Nidderdale, an area of outstanding beauty. On a brownfield site (formerly a car dealership), a Costcutter kiosk was enlarged, rebranded and reopened as a wholly independent convenience store.
This followed the successful first phase of the development; the refurbishment of the petrol filling station and forecourt. Phase 1 involved the refurbishment of the petrol filling station including a new canopy, forecourt alterations and replacement fuel tanks, pumps and lines in conjunction with a specialist petrol filling station contractor. Phase 2 was the partial demolition and extension to the convenience store building to create a circa 300m² footprint (an increase of 200%). The works were planned to be phased to enable the store to continue to trade with minimal disruption.
The store is a uniquely five-sided extension seamlessly integrate into the local vernacular with its use of traditional building materials applied in a contemporary form. From afar, the angular and split-level roof responds to its unique and varied neighbours both in form and height whilst addressing the client's need for a single storey building. Taking its form from the unusual sized plot, the double-height volume enhances the sense of place and space whilst seamlessly integrating into the original forecourt building. This enabled the store to continue trading throughout and now provides for a logical and considered building. Daylight floods what would otherwise be a typically artificially lit space, thanks to a quirky interpretation of the local dry stone walls and the relationship to contemporary glazing arrangements.
This bespoke development responds specifically to the needs of the local community and makes a positive contribution to the public realm and is a valuable asset to the community, who had to travel as far as Harrogate to buy groceries.
X
ASDA Petrol Filling Station – Rhyl, Wales
As part of our ongoing framework agreement with Asda, Bowman Riley was commissioned to take over the design and delivery of a new petrol filling station in Rhyl from another architectural practice.
With only two weeks before start on site, it was critical to appraise the design quickly and produce construction detailed drawings to ensure the smooth delivery of the project.
Sited next to an adjacent to an existing Asda superstore, the new petrol filling station was previously occupied by a single two storey  ommercial building.
The facility is a six pump station with two new 75,000 litre underground storage tanks, canopy, kiosk, dual jet wash bays together with a vacuum/air/water bay.
The scheme involved creating new access, a forecourt, car parking and service bays, drainage, lighting, CCTV and signage totem.
The site is close to the seafront and as such we liaised with Natural Resources Wales to agree the best design solution to protect the tidal ground water table. Working with the structural engineer, a concrete sealed underground space was created to house the fuel tanks. This design solution will further reduce the potential of seawater pollution in the event of a failure of the containment of the tanks.
X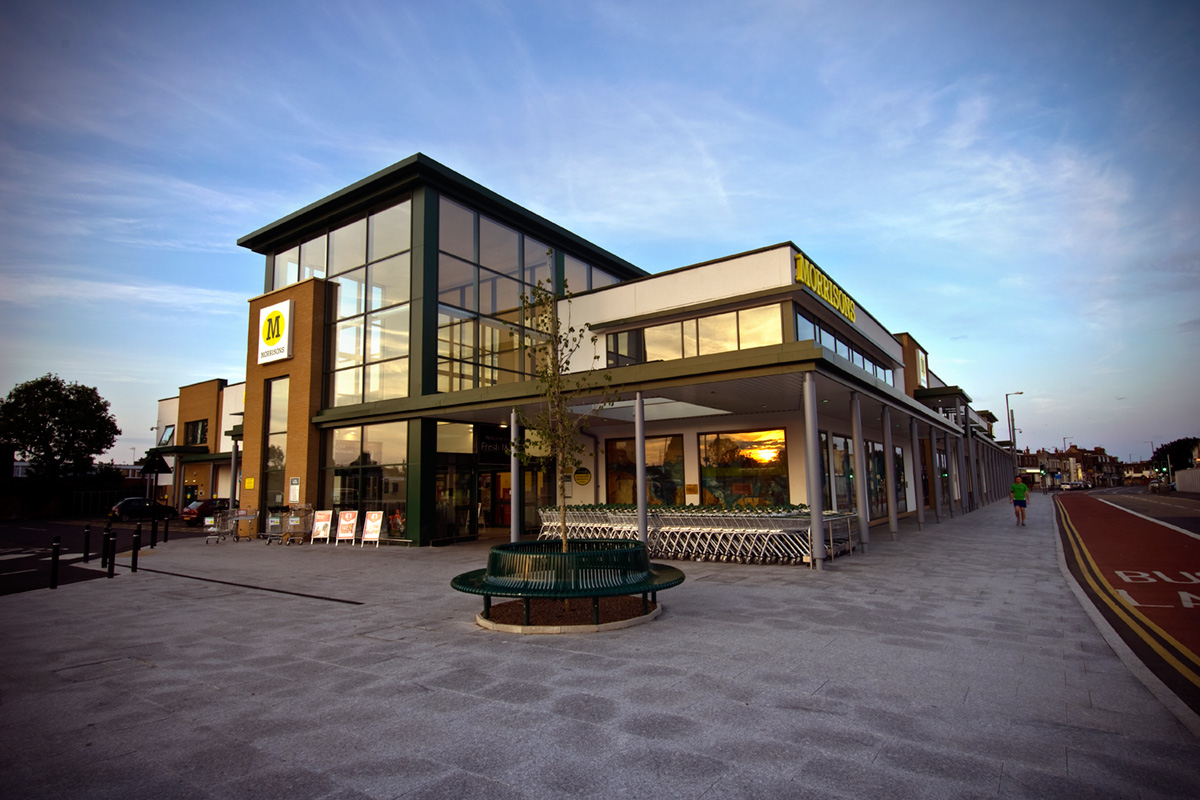 Wm Morrison Supermarkets – Across the UK
Wm Morrison Supermarkets Plc
Across the UK
Bowman Riley has been working for Wm Morrison Supermarkets for 25 years. It is testament to our ability to adapt, innovate and strive to break new grounds in terms of project delivery efficiency, cost savings and sustainability that we are retained as framework architects.
Projects for Wm Morrison:
Project leaders for new supermarkets
Designers on large scale extensions
Store conversions following Morrison's acquisition of Safeway, Somerfield and Netto stores.
Managing complex refurbishment programmes including Store of the Future
Monitoring shell developments prior to the full service for the fit-out
Creating the manual for the design of petrol filling stations for all framework architects to follow.
Achievements
Kidderminster became the first BREEAM Excellent supermarket in the UK.
Morrison's first fast track store at Minehead under their first Design & Build contract.
Fastest new build store in Littlehampton working closely with the contractor to reduce programme.
On the Newport supermarket, we saved 30% of the contract sum (£2.8m).
X
Esso Bewdley Hill Express Refurbishment
Esso
Bewdley Hill, Bewdley, Kidderminster
Under a current framework agreement with Esso, Bowman Riley completed an extensive refurbishment to an existing petrol filling station at Bewdley Hill in Bewdley, Kidderminster.
The petrol filling station has four dispensers with pay-at-pump, two 60,000 litre tanks, canopy, refreshed shop, driver controlled delivery unit and totem signage.
This project is part of Esso's continued programme to replace the fuelling infrastructure at their sites with safer, more energy efficient equipment. In addition, the site in Bewdley was particularly challenging due to the steep slopes making customer vehicle access difficult leading to a small number of vehicles rolling off the site into neighbouring properties.
Bowman Riley undertook the roles of designer, party wall surveyor and client advisor on the project working alongside the main contractor, Dakin Service Station Contractors, Millard & Partners structural engineers and project managers, Artelia.
The scheme involved the complete reconfiguration of the forecourt and car park to create additional parking for the store, along with two additional fuelling positions. Our design improved the forecourt by maximising the space whilst making a safer forecourt operation on this challenging sloped site.
View more of our petroleum experience
X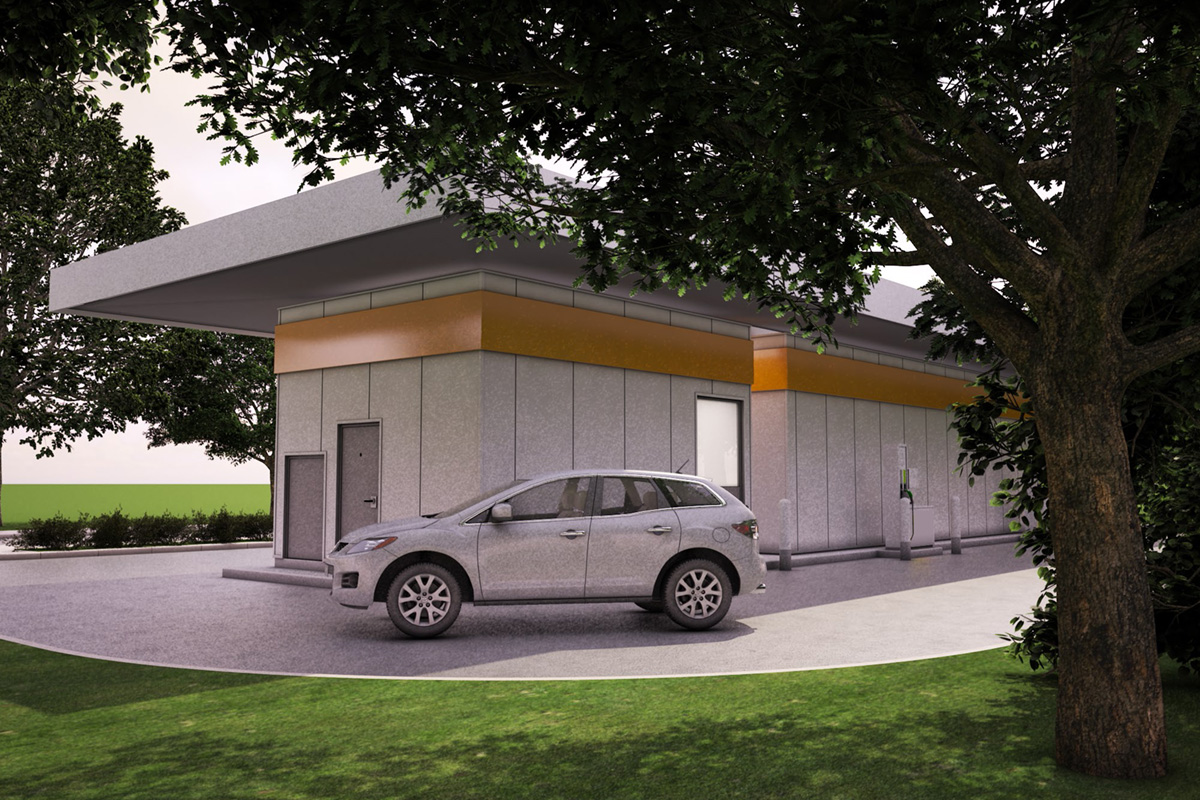 Artelia Modular Petrol Filling Stations
Catfoss
UK Wide
Bowman Riley works on a joint venture basis with Catfoss to design and deliver modular petrol filling stations on behalf of Artelia for all five major petroleum companies.
Our modular solutions fulfil a need to provide new petrol filling stations faster and more efficiently.
We are currently involved in the design of two modular models; a large-scale, more traditional petrol filling station and a temporary station with above ground tanks for deployment to a range of sites for several petroleum companies.
Using the latest technology, the modular projects we deliver are predominantly built off-site in controlled environments. This speeds up the construction process as modules can be created simultaneously in a factory at the same time that site work is occurring. There are also benefits in terms of embedding sustainability and reducing carbon, as it produces less material, less site disturbance and offers greater flexibility and reuse.
X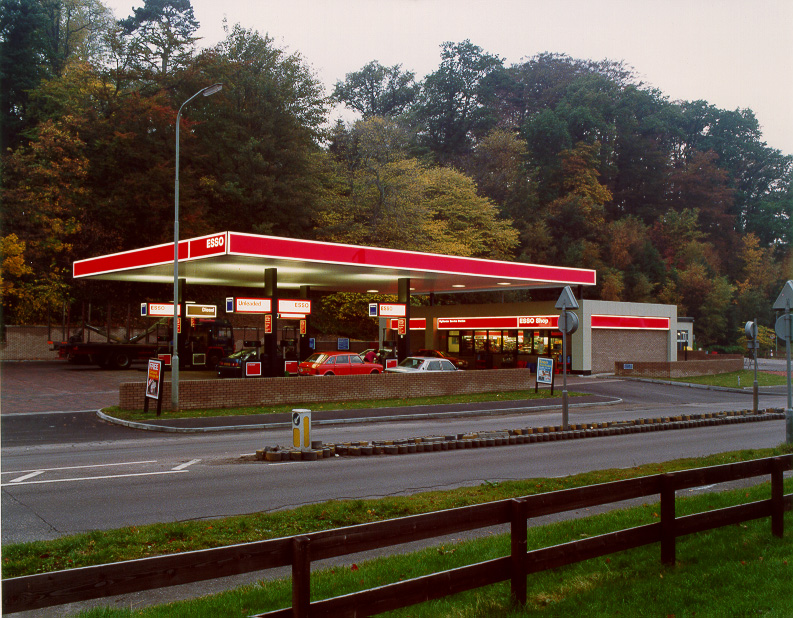 Esso Petroleum – Across the UK
Esso
Across the UK
Bowman Riley's unparalleled experience in petroleum projects can be traced back to the 1970s when the practice was first appointed by Esso Petroleum to undertake projects relating to their retail forecourt network across the UK and Ireland.
In the 1990s, we took responsibility for managing the archive of information relating to Esso's national estate portfolio. This resulted in our appointment by Esso Europe (Exxon Mobile) to develop European standard drawings to form the basis for all retail forecourt developments in Europe. We played a pivotal role in the development and coordination of these standards.
Today we continue to work with them to maintain their standards library to reflect the latest European trends and legislation. This involvement has kept the practice at the cutting edge of forecourt developments. We have also been instrumental in managing the national programme of forecourt upgrades to ensure access compliance on over 600 sites.
Our current activity for Esso reflects their current strategy for consolidation and technical upgrade of their estate resulting in the completion of a significant number of tank and line replacement projects as part of an on-going programme. We are also involved in minor works projects on 40 sites to update the site image to the latest low energy standards.
We have an on-going brief to prepare and update the Dangerous Substances and Explosive Atmosphere Regulations drawings for Esso on a countrywide basis.
X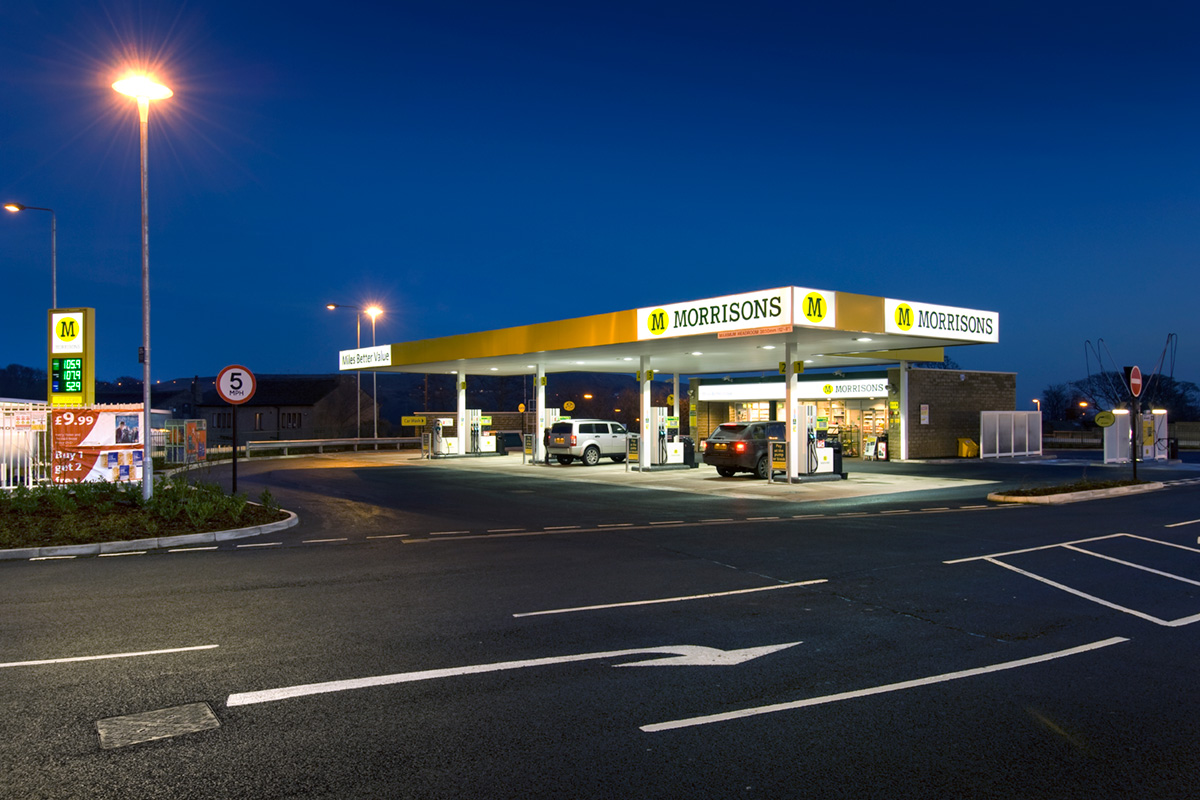 Wm Morrison Supermarket Petrol Filling Stations
Wm Morrison Supermarket
Nationwide
Bowman Riley has been working for Wm Morrison Supermarkets for 25 years and it is testament to our ability to adapt, innovate and strive to break new grounds in terms of project delivery efficiency, cost savings, sustainability, that we are retained as framework architects.
We have successfully designed and delivered numerous supermarket developments including petrol filling stations alongside new and existing stores across the UK.
The new supermarket we designed in Illingworth, Halifax achieved BREEAM Excellent and featured the UK's first entirely LED lit petrol filling station.
The supermarket and petrol filling station we delivered at Minehead in Somerset was Wm Morrison' first ever new build design and build project driven with a focus on value engineering and speed of construction whilst maintaining a high level of quality.
X