News
Sustainability at Clerkenwell Design Week 2022
Sustainability was bound to be the hottest topic at Clerkenwell Design Week 2022 with clients and designers pledging to be carbon neutral by 2030.  Interior Designer, Emma Black writes about sustainability at Clerkenwell and details a few of her favourite sustainable discoveries from the event.
Bamboo
Bamboo is such a versatile material. Bamboo only uses a third of the water consumption to grow compared with oak and it releases 30% more oxygen than hardwoods and absorbs five times more carbon dioxide than standard trees. Once the bamboo has been harvested, it only takes one year to regrow!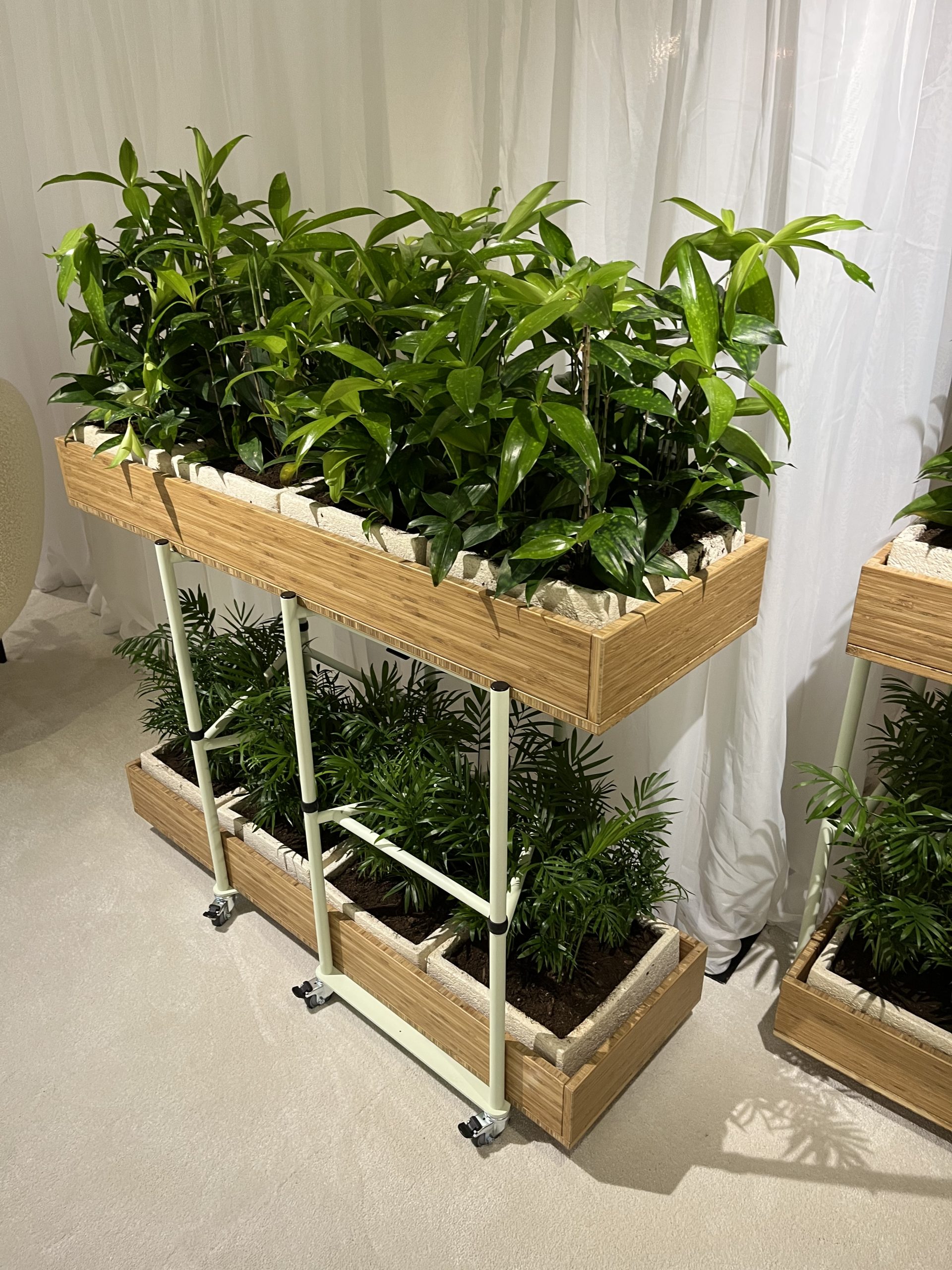 Furniture designers and manufacturers, Frovi has created a double-tiered planter from sustainable and natural materials using bamboo boxes that sit within a framework with a liner made from natural materials. The planter liners are made from 95% hemp and 5% mycelium using MycoComposite technology. This process enables the bio fabrication of many eco-friendly products ranging from packaging to architectural elements. This amazing technology allows us to grow products that are free of plastic, durable and 100% home compostable! The framework of the planter is protected with a powder coating that cures at lower temperatures, reducing energy usage and the connectors are made from 100% recycled ocean plastic. I cannot wait to see where this amazing technology can take us on our sustainability journey in the design world!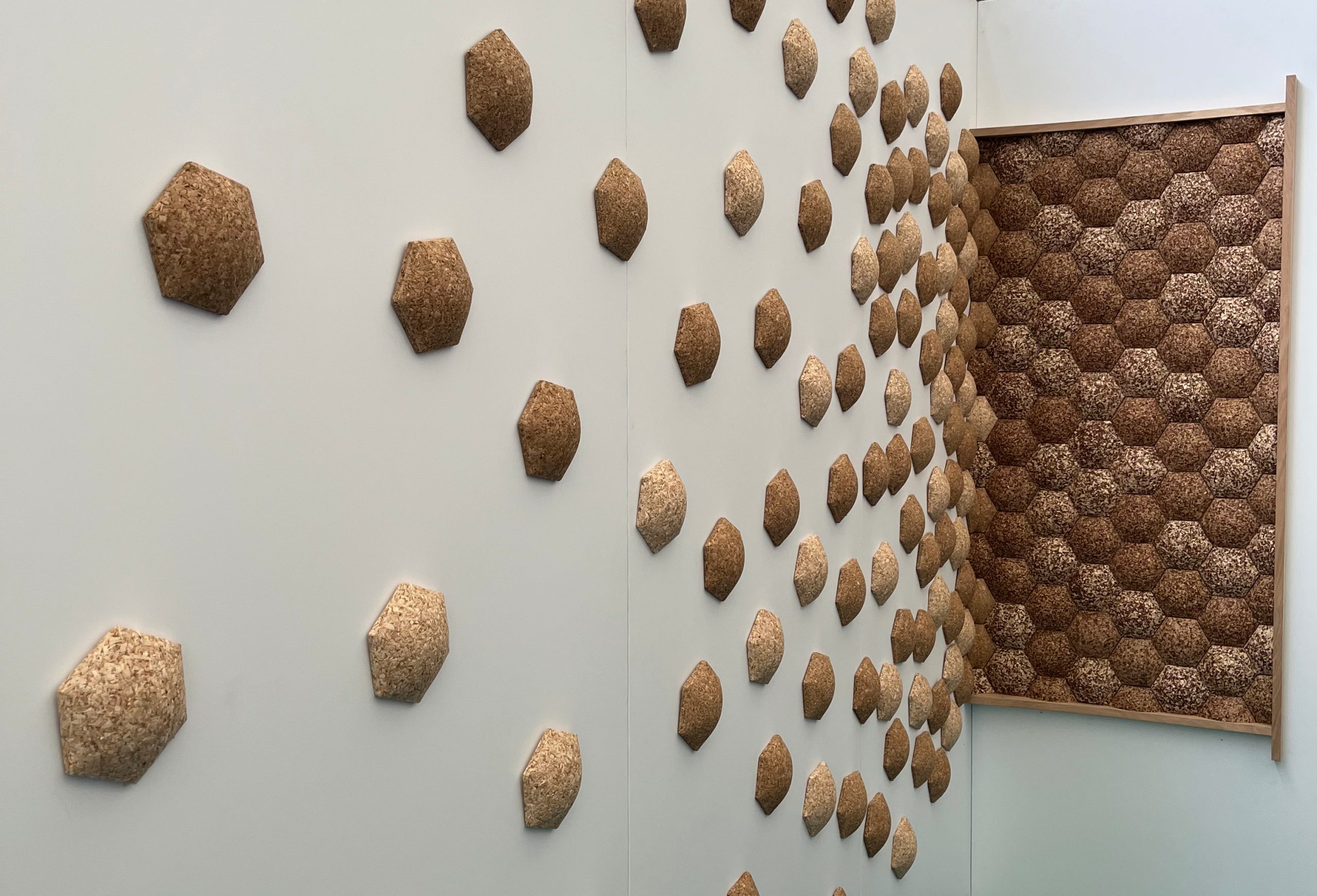 Industrial Wood Waste
A product that stood out for me is a completely new product called Hive, a tile system from Less is Better, a sustainable furniture supplier from Cornwall.  The tiles are made from 93% industrial wood waste comprising discarded oak and ash shavings and cocoa shells.  The cocoa husks give a sumptuous dark tone and a mouth-watering chocolatey smell.  Chocolate on the walls, what could be better?  It would make a great feature wall with the different tones arranged in a way to assist wayfinding or even creating a logo or tagline.
Carbon Circularity
We attended a seminar by furniture supplier, Orangebox, on carbon circularity.  Orangebox is currently experimenting with plastic mined from landfill, which is then turned into a polymer to be reused.  This would be the first carbon-positive material. Orangebox was not only talking about where they have improved but also honest about how much further there is still to go on this carbon-reduction journey.
Cradle to Cradle
I have learnt that rather than reduce, reuse and recycle, a new design principle called 'Cradle to Cradle' orients around a strategy of rethink, reinvent and redesign.  This shifts the whole dynamic from our current process of cradle to grave.
I attended a seminar by Professor Dr Michael Braungart on the Cradle to Cradle philosophy hosted by Mosa, a tile company.  One of the core values of the principle is to think of waste not as waste but as nutrients and ingredients for the next thing. Inspired by nature, nothing natural is waste, we should be designing everything so that it lasts as long as possible and when it is no longer needed, it can become something else useful.
There is a real emphasis within the ideology to create positive added value.   I am now busy reading the book to learn about how we can implement all the lessons and ways of thinking into our designs and life.
The event
Sustainability at Clerkenwell was a big part of this year's event, however, the event itself should be more eco-friendly. Suppliers were showcasing their eco-friendly products whilst handing out masses of branded notebooks, paper flyers, pens, bottles and other merchandise, which were ultimately unnecessary and contributed to the carbon footprint of the event.
If a supplier insists on bringing branded merchandise to the event, then surely it should be sustainably sourced, made and be compostable?
Conclusion
Clerkenwell design week is a highly beneficial event for me as a designer seeing finishes and furniture in person is invaluable.
We are already looking forward to next year's event, but let's not wait until then to start the conversation about reducing our carbon.