News
Top 3 Trends at Clerkenwell Design Week 2022
Our interiors team attended Clerkenwell Design Week 2022 in London soaking up the inspiration!
After a three-year hiatus, it was great to catch up with suppliers new and old, see new products and forecast future trends.
Here is what Laura Baarda forecasts as her top three trends at Clerkenwell Design Week 2022:
Colour Palettes: Soft Tonal Warmth
We started the week at Chelsea Harbour for inspiration for our residential projects and saw real synergy between the residential and commercial sectors in terms of the colour palettes adopted – the lines between home and work have become increasingly blurred.
We saw warm tones from soft rusts, blush pinks and sandy tones with accents of earthy greens and soft blues to create warm palettes that feel soft and inviting.  Post-pandemic, we are all craving warm and appealing interiors that feel like a home away from home with soft tones and textures.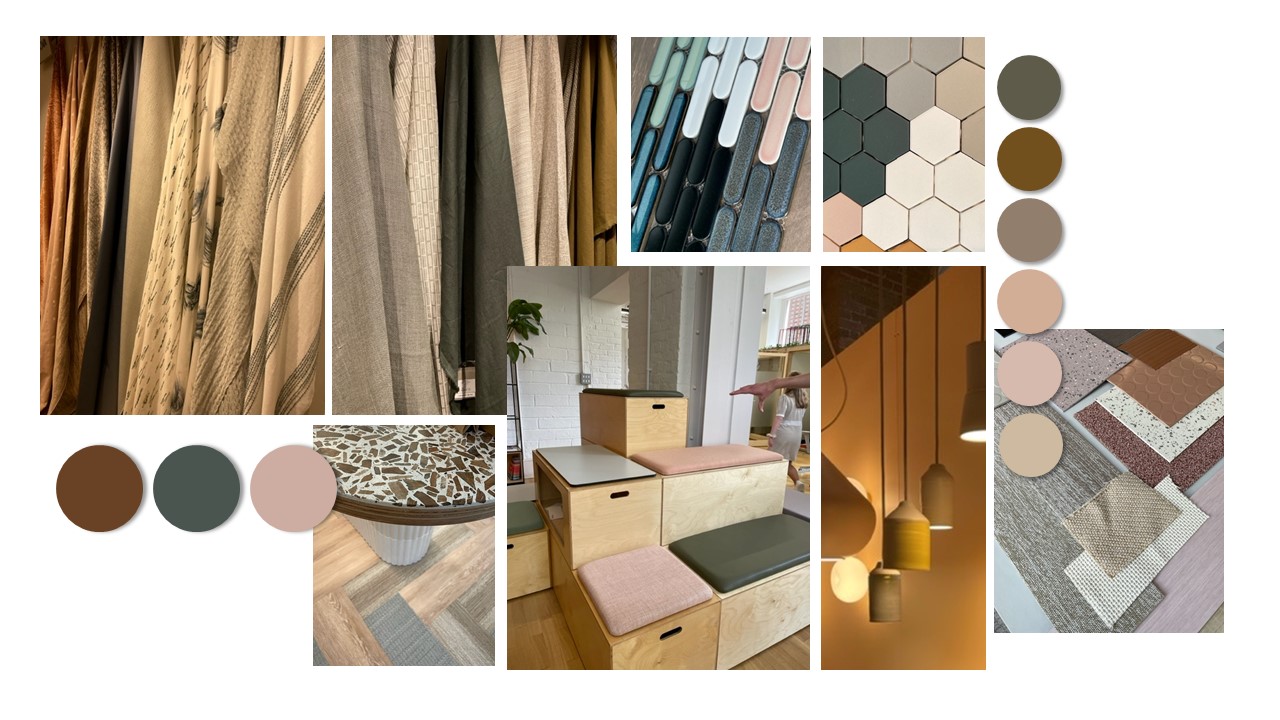 Furniture: Agile Task Chairs
Agile working is nothing new, however, as more and more companies adopt a more flexible working approach we are seeing a more design-centric office landscape with employees returning to the office for social interaction and collaboration, as task working can be easily achieved at home.
This has meant the rise in agile working furniture as the baseline for office interiors, with standard desking and task chairs taking a back seat.  However, from a wellness and ergonomic standpoint, we still need to ensure that the furniture used is suitable and will support people for a longer stretch of time than the standard occasional chair often found in collaboration and agile spaces.  This has born the need for the agile task chair – a chair that is designed to be more aesthetically pleasing but with the benefits of the ergonomic adjustments of a task chair for comfort.
We saw great examples of this at Humanscale with their new Path chair made from nearly 10lbs of upcycled ocean plastic, as well as Boss Designs' beautiful Ola chair that offers a huge aesthetic variety with various bases and shell options. We joined an inspiring talk about carbon circularity at Orangebox where the designers shared their route to the creation of the Allow Me chair, which has been designed to create a uniquely ergonomic experience as well as serious consideration of the product lifestyle and how something can be re-loved rather than replaced while still allowing our clients the variety of space to meet trends… very inspiring.
Materials: Reeded Accents
At the last Clerkenwell in 2019, I remember the amount of timber slat details and use of plywood, the whole aesthetic was much more architectural in its curation. However, this year along with the softer colour palette we saw a huge steer towards reeded accents, in every area from beautiful light fittings to the stunning cladding at the inspiring Interface showroom. The variety of reeded tile options and colours at Solus ceramics makes this trend hard to ignore.
I have to say that I love this trend.  The softer accent gives an almost 60s classic Mad Men aesthetic to the interiors.  This can be brought into so many details from lighting to fabrics offering a much softer and rounder profile than the much seen slatted details of office interiors over the last few years.
We also attended a variety of inspiring sustainability seminars and interrogated our suppliers and their products to understand how we can design more sustainable interiors.  Our sustainable interiors expert Emma Black is writing a blog about what we learnt at CDW this year.
We are already looking forward to next year.