Projects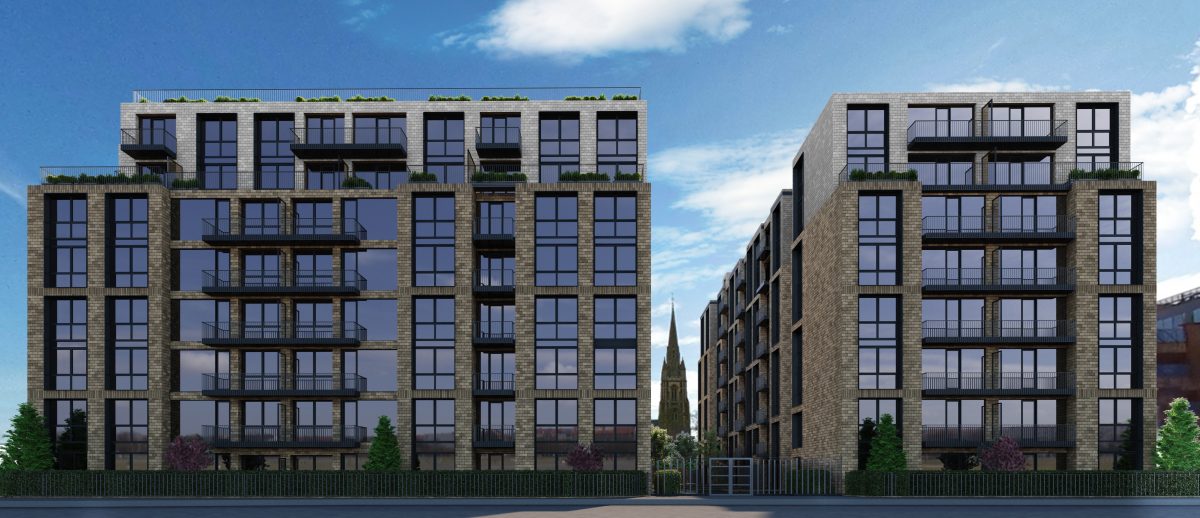 Herschel Street, Slough
Bowman Riley's team has been appointed to provide architecture and the role of principal designer on a major eight storey modular residential scheme in Herschel Street, Slough working for the construction company, Mid Group on behalf of Click Properties.
The landmark development will provide 238 high-quality new homes for first-time buyers, families and professionals using the latest offsite technology working alongside Premier Modular.
The Herschel Street development will feature studio, one, two and three-bedroom apartments with a number of eighth-floor penthouses.  There will also be a number of apartments classed as affordable homes.  The construction will take place off-site, with the modules delivered to the site, before being craned into place for installation.
The off-site building methods employed will enable installation in only 10 weeks.  Work is due to start on site in late 2017 with the first new homes handing over in 2019.
The high specification apartments will help to meet the increased demand for homes in Slough and contribute towards the ongoing renaissance of the town.  Slough is currently benefiting from £600m Heart of Slough regeneration fund and Crossrail is due to arrive in the town in 2019.
Andrew Shepherd, CEO at Mid Group said:
"We are delighted that Bowman Riley has come on board to deliver this prestigious development.  We are confident that their modular design expertise combined with a strong track record in the delivery of residential schemes will contribute towards the successful completion of this major scheme."
See the Insider article and Yorkshire Post article on the scheme.
X
Wythenshawe Hospital New Modular Retail Building
Bowman Riley provided the detailed design for a modular building at Wythenshawe Hospital, part of the University Hospital Southern Manchester NHS Foundation Trust.
The 365m2 modular building incorporates a Costa Coffee and M&S Simply Food to provide an upgraded food retail offering at the hospital.
The building was constructed beneath an under croft of an existing tower, which was the original hospital's main entrance. The existing structural columns were integrated into the new building's fabric.
A modular solution was ideal for the live hospital environment with the project delivered on site in only 12 weeks. Site access was very tight and all materials were brought in on a gerney through an access corridor between two existing buildings.
Bowman Riley's role was to take the design from planning through to completion. We liaised with the local authority to discharge complex planning conditions and manage the Building Regulations submission. We prepared drawings for inclusion within legal documentation including: phasing drawings, superstructure, site logistics and fire strategy. We used the SharePoint software to allow documents to be shared by all contractors and reviewed by the client.
We provided ongoing support throughout the time on site and reviewed contractor design information and commented for HTM compliance. We also attended the co-ordination meetings with the NHS Trust.
Click here to view other modular projects
X
Milton Keynes University Hospital New Entrance and Retail Building
Catfoss
Milton Keynes
Bowman Riley designed a new hospital entrance and retail building at Milton Keynes University Hospital, a medium-sized district general hospital. As part of the hospital's wider redevelopment to upgrade the infrastructure and facilities, the new entrance was designed on a former car park.
We worked together with the NHS Trust, Compass Group, Catfoss, Kier Construction and the local authority to deliver the 987m² free-standing single storey entrance building. The South Westerly facing building has brise soliel to provide shading and links building back
into the existing the Outpatients, Ear, Nose and Throat, Speech Therapy and Physiotherapy
departments.
The building accommodates three retail units to be occupied by Amigo, Costa Coffee and Subway for patients, staff and visitors thereby bringing much needed revenue to the hospital.
The building was constructed within a controlled environment, which vastly reduced the time spent on site and provided less material waste. Constructed with a hot rolled steel chassis, the fabric of the building offers an engineered solution featuring high levels of fire resistance
and thermal efficiency.
Delivered to site in 19 modular sections, the building was erected in just three days. The chassis were 15m l x 4m w, which resulted in challenging transportation and installation.
Complex ground conditions included an existing live services tunnel beneath the development. The quick installation time meant that site works were kept to a minimum and air quality conditions were maintained – crucial for a healthcare environment. Final fit-out was conducted within 12 weeks keeping disruption to a minimum.
X
Derriford Hospital Modular M&S Store – Devon
Derriford Hospital, Plymouth, Devon
Bowman Riley Architects designed a new modular M&S store at Derriford Hospital in Plymouth, a large teaching hospital serving Plymouth, Devon and Cornwall.
We worked together with the Plymouth Hospitals NHS Trust, M&S, Catfoss, Wates Construction and the local authority to deliver the 158m² (1700ft²) freestanding single storey retail unit occupied by M&S Simply Food adjacent the main hospital entrance.
The unit was designed with prominent graphics on the roadside frontage to add visual appeal and colour at the entrance.  Clear glass was used at the corner to avoid pedestrian conflict due to reduced visibility.
Constructed with a hot-rolled steel chassis, the walls to the new unit are insulated cavity walls constructed from timber with external cladding to hide the modulation joints.
The unit was constructed within a controlled environment, which vastly reduced the time spent on site and provided less material waste.
The building was delivered to site in seven modular sections and erected in just seven hours.  The quick installation time meant that site works were kept to a minimum and normal air quality conditions were maintained – crucial for a healthcare environment.  Final fit-out was conducted within 10 working days keeping disruption on site to a minimum.
The quality control was such that the building fully met the expectations of the contractor and was handed over with no snagging required.
The store opened on programme and ready for trade as planned offering a new on-site retail facility for hospital patients, staff and visitors.   The retail facility is currently exceeding predicted sales targets.
X
New Science Building – Harrogate Grammar School
Harrogate Grammar School
Harrogate, North Yorkshire
Bowman Riley Architects designed a new science building for Harrogate Grammar School, an independent academy trust, with over 1,850 students including over 550 in the Sixth Form.
Science is a key area of the curriculum and the creation of first-class facilities help further students' enthusiasm for the subject.  The new building replaced a crumbling 1950s science block that was built at a time of austerity to a much lower standard than the original 1930s stone and brick school.
Harrogate Grammar School received £1 million funding from the Education Funding Agency to create the new science facilities.  The funding was received in the April and the new building was needed by September in time for the start of the new academic year.
Bowman Riley proposed a modular building to enable the new facility to be delivered on a fast track basis with erection off-site to minimise disruption to the operations of the school.
The design features a striking entrance and contemporary facade that are juxtaposed between the classically detailed existing building to create a prominent addition to the campus.
The building houses four new laboratories and a preparation room with a new link corridor on the ground floor level to the existing school building to reduce congestion at the busiest area of the school.
X
YMCA Temporary Housing – Islington, London
Islington, London
Won through an architectural competition, Bowman Riley Architects designed an innovative solution to the shortage of hostel accommodation in London through the use of converted shipping containers named Project Acorn.
City YMCA London was unable to renew the lease for its existing central London accommodation. This resulted in the need to provide alternative accommodation for 120 short-term tenants, typically students for a two year period whilst permanent accommodation is created.
Working in partnership with the YMCA, Bowman Riley assisted in the selection of a vacant brownfield site that could accommodate a temporary housing scheme for a two year period, whilst a permanent building is created.
The unusual feature about this housing scheme is that the homes are built out of converted steel shipping containers.
Extensive discussions took place with the end user representatives and modular construction specialists to achieve a warm, safe and pleasant living environment. Bowman Riley designed clusters of ten single person homes with shared kitchens to meet the needs of the user group.
The YMCA has commissioned a prototype to be manufactured in advance of the full order.
View more of our social housing experience here
X
Urban DNA Shipping Containers – Leeds
Urban DNA
Bowman Riley was commissioned by Urban DNA to produce a concept scheme and designs for the conversion, refurbishment and re-design of former shipping containers into modern, open plan office spaces.
The concept entitled Urban Studio was to produce rentable office spaces that could be quickly and efficiently manufactured and fitted out off-site resulting in minimal on site construction time. The Urban Studios concept delivers a modern office space in a fraction of the time it would take to construct a traditional building.
The design for the Urban Studios provides modular, stackable pods with the opportunity to expand the space over time either upwards or horizontally by linking additional containers together to create further space.
The focus was to provide sustainable designs incorporating modern eco-friendly technologies including: green roofs, wind turbines on the roof, rainwater harvesting and solar panels. Bowman Riley designed the conversion of a shipping container into a pavilion for the Great Yorkshire Show. The pavilion was designed as a marketing suite to launch the Urban Studio concept to potential clients.
For Holbeck Urban Village in Leeds city centre, we designed the transformation of a shipping container into a multi-purpose pod to promote the regeneration of the Holbeck area as a new quarter for the city and to showcase the Urban Studio concept.
View other commercial projects here: http://www.bowmanriley.com/projects/
X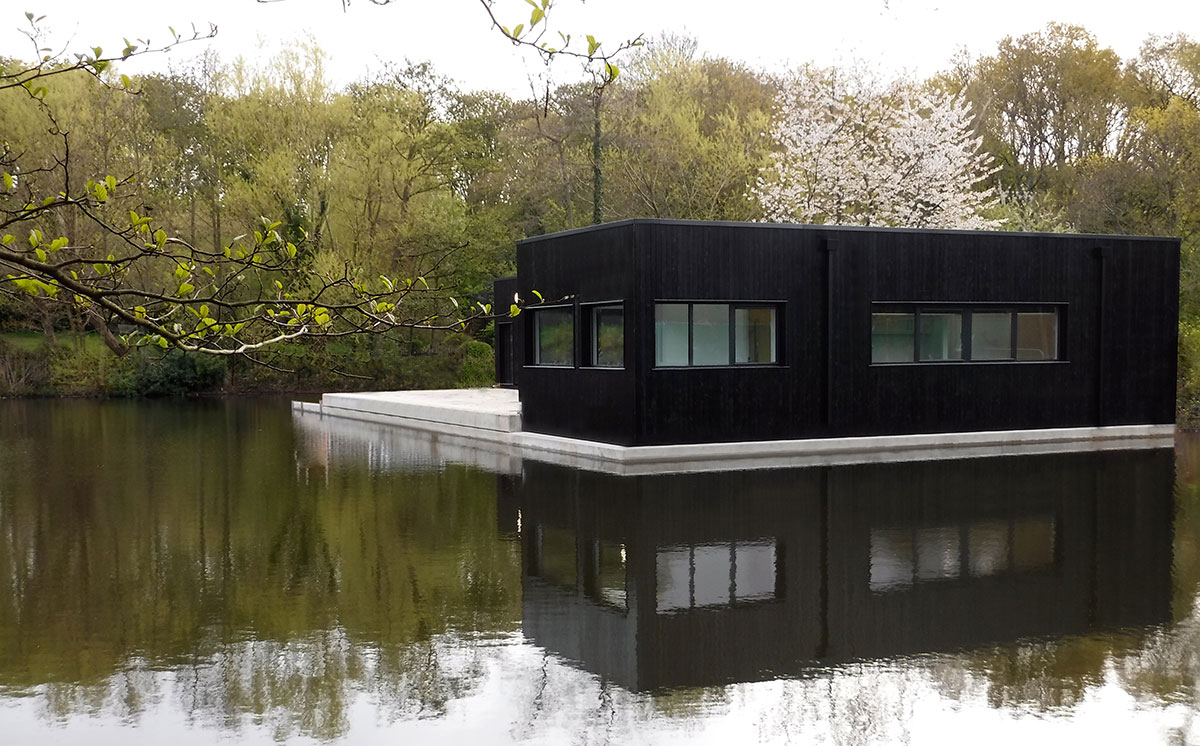 Kenwood Ladies Pond – Hampstead Heath, London
Catfoss
Hampstead Heath, North West London
Bowman Riley Architects designed a new modular changing facility at Kenwood Ladies' Pond.  This open air swimming pond and secluded meadow is on Hampstead Heath in North London and run by the City of London.
Opened to the public in 1926, Kenwood Ladies' Pond is used throughout the year and the new facility was needed to open in time for the particularly popular summer months. The existing building was located on dam and had to be demolished in order to undertake repair work to the dam. It was also run down and in need of replacement. The project was originally conceived to be traditional build; however, the facility could not be delivered in time.
Modular manufacturer Catfoss was brought in to provide a modular solution and Bowman Riley Architects was commissioned to redesign the original concept in a modular format whilst maintaining the original specification required by the client. The facility comprises two buildings; the first accommodating internal and external changing rooms and showers and the second, a lifeguard observation room, an office and disabled facilities.
An innovative solution was designed to create a facility that would be fully accessible. A level threshold for the building was needed for accessible entrances and exits. A new concrete deck was laid by BAM Nuttall and concrete pockets were created to locate each module ensuring level thresholds.
The building was manufactured off site in large aircraft hangers in Driffield, North Yorkshire and erected on site in April 2016 in time for the busy summer season.
View more of of modular experience here
X
Meadowhall Bicycle Hub Building – Sheffield
British Land and Norges
Meadowhall Shopping Centre, Sheffield, South Yorkshire
Bowman Riley Interiors was appointed by British Land to provide concept design proposals for a bicycle hub building.
The building will be situated adjacent to Meadowhall Shopping Centre in Sheffield. The shopping centre needs to cater for increasing numbers of staff and customers travelling by bicycle.
The requirement was for an 80 capacity secure bicycle store with associated WC, shower and locker facilities along with a small shop and workshop facility. The design concepts were presented to Meadow Hall's management team, Sheffield City Council and Russell's Cycles, as the retail tenant. Following briefing and research, we developed three distinct design concepts addressing each aspect of the brief using 3D concept modelling. Security, sustainability and flexibility were key drivers from the brief. We explored options to construct the building using traditional, hybrid and modular methods of construction.
We provided costs and logistic solutions for each option. The project anticipated to shortly move onto the planning stage and procurement with CBRE acting as project managers .
X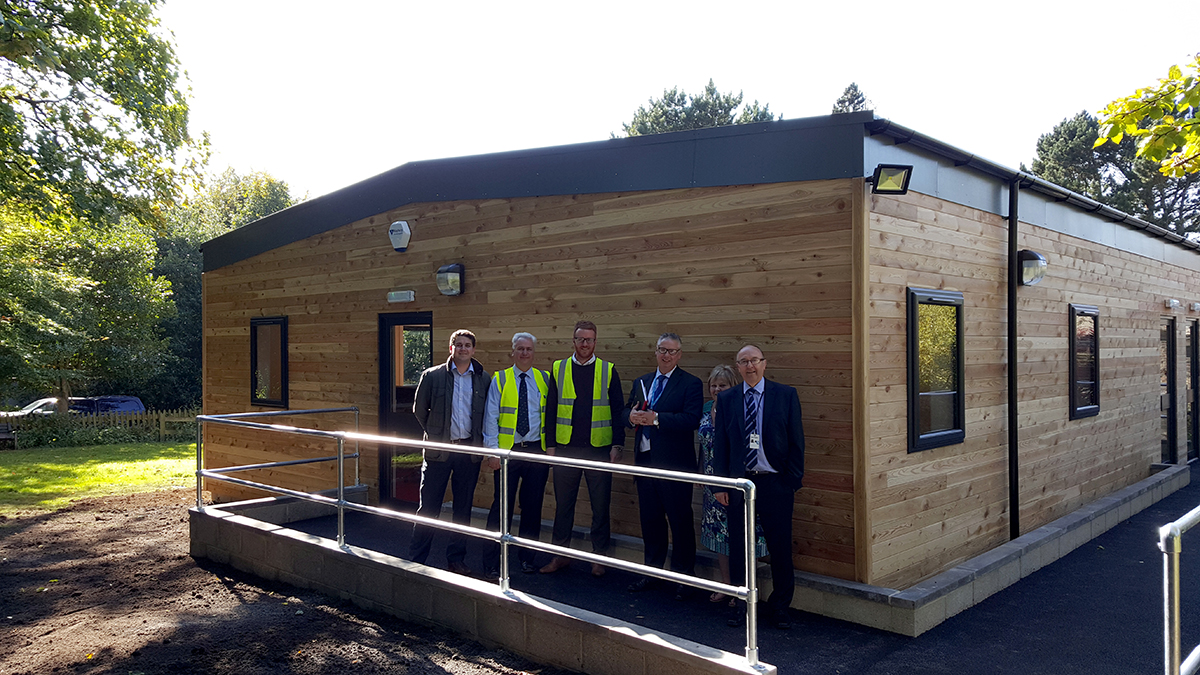 Sue Ryder Modular Office – West Yorkshire
Sue Ryder
Site Location: Oxenhope, West Yorkshire
Bowman Riley Architects designed 974m² single storey modular offices and conference room facilities for the national charity and care provider, Sue Ryder at their Manorlands hospice in Oxenhope near Keighley. The project followed Bowman Riley's team working with the charity on a volunteer basis to create a new garden at the Hospice.
The new modular facilities enable the charity's clerical staff to move from an inadequate and cramped attic space in an existing building into appropriate, operational office space situated on a grassed area surrounded by protected trees.
Pivotal from the outset, Bowman Riley's role was to gain full planning approval for the development and to support Sue Ryder through the tender process involving assisting with selecting a modular building supplier. We then also provided an overseeing role during the works.
Due to the nature of the end of life care that Sue Ryder provides it's patients, the project was delivered in a very sensitive manner with panels constructed off site to mitigate the noise, debris, dust and time on site. With efficient communication between the Hospice and the contractor very little disruption occurred. The project was delivered within a very tight budget and time frame. The building arrived onsite in panel form, which was erected within a day,
the roof was in place the day after and subsequently the timber cladding was completed.
The hospice staff are delighted with their new accommodation and looking forward to occupying the new premises. As a result of the successful project at Manorlands, Bowman Riley been commissioned to work for Sue Ryder at their premises in Bedford.
X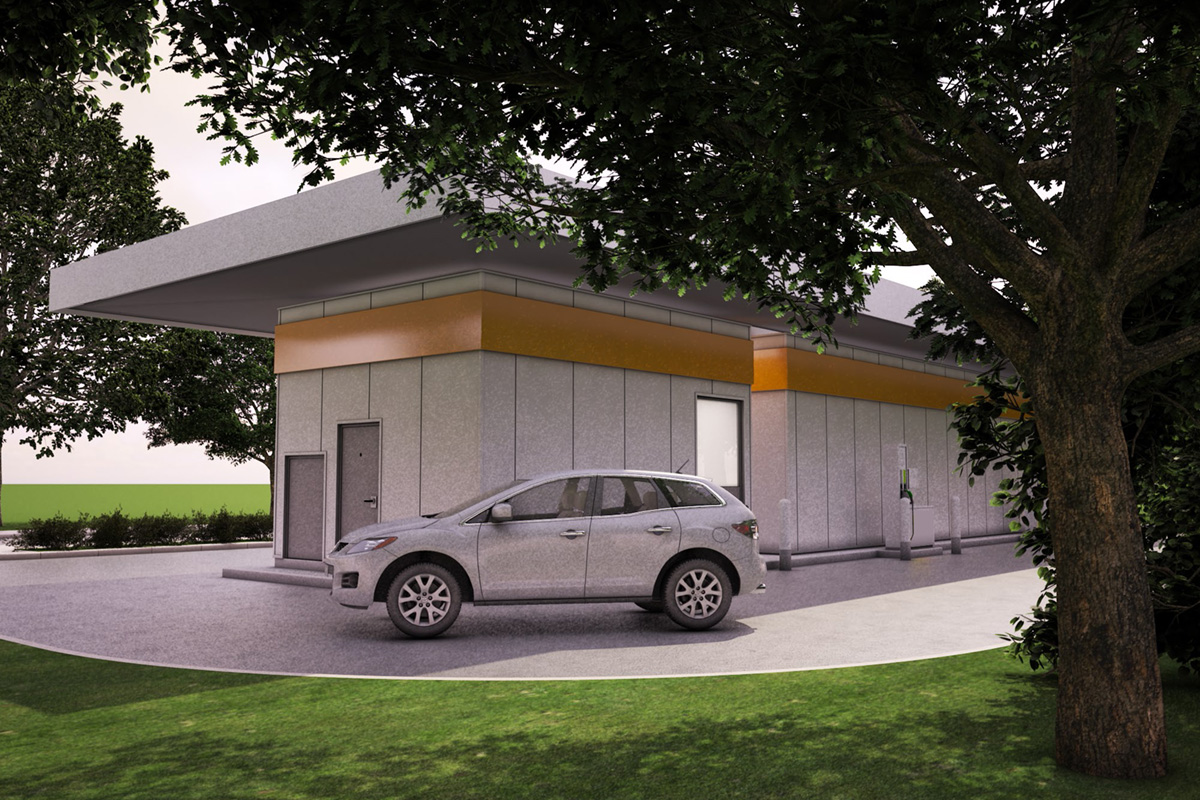 Artelia Modular Petrol Filling Stations
Catfoss
UK Wide
Bowman Riley works on a joint venture basis with Catfoss to design and deliver modular petrol filling stations on behalf of Artelia for all five major petroleum companies.
Our modular solutions fulfil a need to provide new petrol filling stations faster and more efficiently.
We are currently involved in the design of two modular models; a large-scale, more traditional petrol filling station and a temporary station with above ground tanks for deployment to a range of sites for several petroleum companies.
Using the latest technology, the modular projects we deliver are predominantly built off-site in controlled environments. This speeds up the construction process as modules can be created simultaneously in a factory at the same time that site work is occurring. There are also benefits in terms of embedding sustainability and reducing carbon, as it produces less material, less site disturbance and offers greater flexibility and reuse.
X