News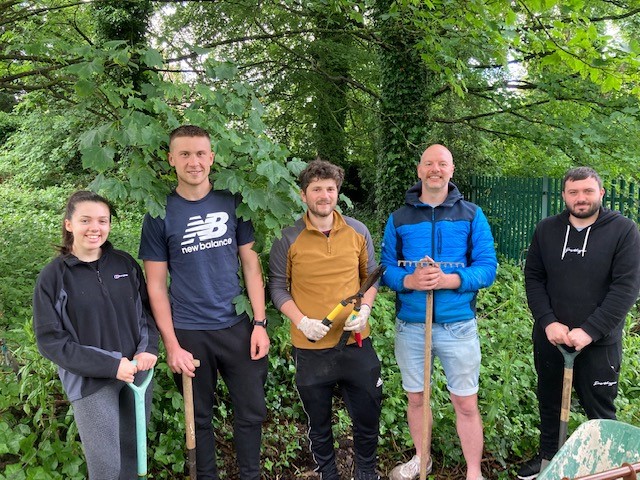 Volunteering at Brooklands School in Skipton
Five members of our team has been volunteering at Brooklands School in Skipton to help with gardening projects.
Brooklands School is a specialist school providing high quality education for pupils with a wide range of complex needs for pupils aged from 4-19 based in Skipton town centre.
Beth Fannon, Sam Birks, Ben Stone, Mark Hayton and Piers Harrison spent the day working on the school grounds clearing overgrown greenery to create a fairy garden and an area for the children to enjoy pond dipping.
At Bowman Riley, each member of our team is entitled to a day's paid volunteering to help a local charity or community group as part of our commitment to corporate responsibility.
This volunteer work is alongside our involvement with the school through the Yorkshire Children's Charity on the Yorkshire Big Build initiative.   We are providing architecture on a pro-bono basis, we are working with Rex Procter & Partners as quantity surveyors, Peak PM as project managers, Reform as landscape architects, BWB as structural engineers, Hydrock as M&E engineers and GMI Construction as the contractor, to lend our time to deliver a project at Brooklands, from design to execution.
The Big Build project involves early years classroom refurbishment, extension to the play area, the reconfiguration of the sensory room and the conversion of a garage into rebound therapy centre.
Samantha Good, Business Manager, Brooklands School commented on our volunteering day:
"I cannot explain the difference your amazing group of volunteers has made this afternoon… Thank you so much – all you, Fran, Darren and I are absolutely thrilled, as for Patrick our Site Supervisor, well your group made his week.  They all said they enjoyed themselves, not sure their aching limbs will agree in the morning."